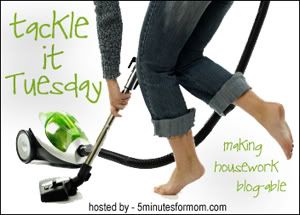 5 minutes for Mom
is hosting another Tackle-It-Tuesday!
I'm not unlike the rest of you who have endless laundry to do...
I vow to do it once a week ONLY...and since I
just finished
it on Thursday (my usual day), it will be tricky to last the rest of the week and NOT have to do it again on Thursday, since I've done it today! We used more clothes than normal since we just got back from Las Vegas!
Short and sweet today------>
Separating clothes and washing one load at a time. I squeezed everything into three loads.
Folding the clothes and separating them. (This is not all the clothes)
All folded and put into drawers! TaDuh!!!