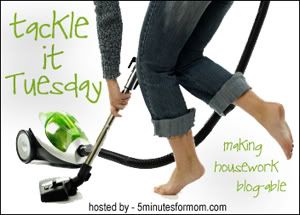 I have some B-I-G projects that I thought I would do over the summer...but so far I have wimped out! (like the garage, hall linen closet, dining room hutch...you know, the big stuff)
Anywho....I tackled my NutriSystem cupboard last Tuesday, so this Tuesday I figured Ill tackle the surrounding ones.
(Right side was done)
Left side BEFORE and Left side AFTER
Before and After
General categorizing...baking goods, cereals, box mixes, etc... felt good to just have it cleaned up and orderly! Happy Tackle-It Tuesdays! Go see "
5 Minutes for Mom
" to join in the fun!